Monday, September 09, 2013
Monday, August 26, 2013
Wednesday, August 21, 2013
Winterset In Summer Literary Festival
The Winterset Festival is held each summer in the town of Eastport, in the province of Newfoundland and Labrador. The festival is supported by both the federal and provincial governments. It has been held in Eastport each year since about 2000. It was established by Eastport residents to commemorate Canadian/Newfoundland author Sandra Fraser Gwynn who died in 2000. Since that time, Winterset has expanded to include, in addition to writing, drama, music and the visual arts. Over the years it has attracted international stars such as Sebastian Faulks, Michael Ondatjee and Margaret Atwood.
This year I was honoured to be invited to appear on a panel of mystery writers which included two Canadian "mystery-writing stars", Giles Blunt and Gail Bowen. Our panel was titled "Mysterious Voices". As such panels usually are, it was a lot of fun. It was clear that the sold-out audience enjoyed the event as much as we did.
Monday, August 12, 2013
Monday, August 12, 2012
Scene Of The Crime Writers Festival
Which a pretty good jumping-off point for today's post. At least I hope so. If it isn't, then I am flat out of ideas.
I have never really considered myself a "car guy". I don't subscribe to magazines that focus on exotic cars; have never even bought one. In fact, I don't know all that much about cars. I can toss off comments about my new "wheels", and point out that the thing is a 2013 model with the Pony package, has a V-6, 305 hp engine, and some kind of racing-car suspension. All of which, btw, feels really good. A small push on the accelerator (called a gas pedal, when I was young) produces a pleasing "vroom", and the car shoots ahead like a startled cheetah. I was going to write 'gazelle', but decided that would convey the wrong impression. Cheetahs, after all, hunt gazelles for a living, and dine on them after the kill. It's important to convey the correct impression.
My car appears to have only slightly fewer electronic marvels than the earlier models of the Space Shuttle. I have not begun to explore them. I will add here that my partner, Suzanne, purchsed an iPhone at about the same time as I came home in my new Mustang. I can report that she has sorted out the many wonders of her new toy in vastly greater depth than I have mine. My one brave foray into the electronics of the thing was to attempt to program one of the three remotes on the car's dashboard overhead to open Suzanne's garage door. But all I managed to do was to de-program all of the functioning remotes for the door, after which none of them worked. That brought me some stern looks from my lady. And to a hasty consultation of the garage door manuals to set things right again. Which, thank whomever, I did – with help – manage to accomplish. So much for the vaunted male superiority in all things technical.
So what does this new beastie of mine look like? Well, something like this:
The colour isn't quite right, but it's close enough.
My disclaimer to not being a "car guy" has to be balanced off by the fact that when I created the protagonist for my three novels, Inspector Eric Stride of the Newfoundland Constabulary, I decided that Stride should drive a cool car. So I gave him a 1938 MG-TA. Even if the roads in 1947 Newfoundland – including in the island's capital St. John's – were rough at best, and vestigial at worst, I wanted my guy to have said cool car. I made a note in the first book, where Stride and his wheels were introduced, that he'd had the car's suspension modified to deal with local conditions. I have no idea what a 'modified suspension' might entail, but there it is nonetheless.
Stride's MG-TA looks something like this:
A very cool car, and appropriate for a man of the world such as Stride, even if he lives in a kind of semi-colonial backwater of North America.
Unhappily, though, I failed badly in the first major duty of any writer who decides to write about historical things. I did manage to research what life was like in St. John's in 1947; having grown up in that period, I had a lot of personal memories to draw on, and people to talk to, to fill in the gaps and miscellaneous details. What I did not know, even with some internet researching, was very much about the MG. Pictures were easy enough to find – see above – but the smaller details were absent. Hence, in a chapter in the first book, Undertow, I have Stride opening the 'boot' of his MG and taking out some gear for a hike across rough ground in search of a murder suspect. Sadly, the 1938 MG did not have a boot. What I thought was a boot – 'trunk' in North American parlance – a rectangular structure attached to the rear of the car, was in fact a gas tank. A second mistake in the same book, different chapter, has Stride rolling down the window on the driver's side. The window of an MG of that era does not have a handle, but is raised and lowered with a strap.
I am not the only mystery writer to make silly errors of detail, though. I once heard P.D. James give a talk in Ottawa, where she fessed up to having given a motorcycle in one of her books a reverse gear; which only one or two exotic models actually have, but not the one that she included in her story.
A final note on the Mustang. Last night at dinner, Suzanne asked where the name came from. I dug into my (frequently faulty) memory and came up with wild horses in the American southwest, probably horses descended from the domesticated animals brought to the 'New World' by the Spanish, which had run away and gone wild. (The question conjured up a memory of the 1961 film with Marilyn Monroe and Clark Gable, The Misfits; screenplay by Arthur Miller, who I think was married to Monroe at the time. The film is memorable for a number of reasons, not least of which is the fact that it was the last one for the two stars, Monroe and Gable.) The origin of the mustang name, though, was something I did not know. So I consulted my very trusty online etymology site, and found that 'mustang' derives from the Spanish, mestengo, for an animal that strays or is 'wild and ownerless'. You can read about that here:
http://www.etymonline.com/index.php?allowed_in_frame=0&search=mustang&searchmode=none
Having decided to write about my own Mustang, and to include a note on Eric Stride's MG-TA, I thought it would be appropriate to branch out a little and add something about two of the most famous cars in films, each of which has a connection to mystery writing.
The first, and very obvious, choice is Steve McQueen's Mustang from the now-classic 1968 crime flick, Bullitt.
The film, as most readers will probably know, has one of the greatest car-chase sequences in all of film history. And it is – as the chap who sold me my Mustang pointed out – especially noteworthy because it did not involve 'special effects', meaning the computer-generated imagery that characterises so much that we see on the screen today. The cars were driven on real streets in San Francisco, by real drivers.
Bullitt's car, btw, was a 1968 Highland Green V8 Mustang GT 390 Fastback. And it looks like this:
To view the famous chase sequence from Bullitt, go here:
http://www.youtube.com/watch?v=gq5Rbpvp_Rw
An equally famous car associated with mystery writing and filming is Inspector Morse's Jaguar. Like Bullitt's Mustang, Morse's car has an enduring glamour and appeal.
The car, a 1960 Mark 2 Jaguar, was purchased by Carlton TV specifically for the Morse series – the series written by author Colin Dexter who, Hitchcock-like, makes cameo appearances in many of the episodes – and it appears in all 33 episodes, including the last, filmed in November 2000. Since the end of the series, the car has been restored, and has had a number of owners; the most recent being Ian Berg. Mr. Berg has stated that the car will, in effect, remain in the public domain, and not be hidden away in a private collection. The car is actually available for hire for a variety of events. So, if any reader feels inclined, and has the wherewithal, to hire the car, s/he can get information here:
http://www.morsejaguar.co.uk/index.html
And here endeth today's lesson.
==================================================================
Monday, July 16, 2012
For  most readers, Roald Dahl is one of the preeminent authors in recent times of books and stories for children. The titles are familiar:
James and the Giant Peach; Charlie and the Chocolate Factory; Fantastic Mr. Fox; Danny, the Champion of the World; and The BFG – for "Big Friendly Giant". If memory serves, my two daughters had most of these titles – among others of Dahl's – on their bookshelves.
Perhaps somewhat less well-known is the fact that Dahl wrote a large number of adult stories, many with a macabre theme, some downright scary, and a few – though not many – that were just a little bit repulsive. At least to this delicate soul. (A "delicate soul" who has written three murder mysteries? Ah, well.) Dahl is justly famous for the unexpected twist at the end of many of  his adult stories.
                                     Dahl in his later years
Dahl was British; not English, not really, having been born in Wales of Norwegian parents. (His given name, Roald, was for the Norwegian polar explorer, Roald Amundsen, a national hero in Norway at the time of Dahl's birth, in 1916.) When Dahl was only three, his father died suddenly of pneumonia. His mother considered returning to Norway with Dahl and his siblings, but decided to stay in Wales. The reason? Dahl's father wanted his children educated in British schools; he believed that Britain had the best schools in the world. He might even have been right about that. Had Dahl's mother taken her children back to Norway, all of those marvellous books and stories might never have been written. Almost too sad to think about.
Dahl was twenty-three when the Second World War started, and he was living in Tanganyika (now Tanzania), working for Shell Petroleum. (It is also worth mentioning – to me, certainly – that before he went off to Africa, Dahl spent three weeks hiking in Newfoundland with the Public Schools' Exploring Society. Yes, it is a small world, isn't it?)
Dahl's young adulthood is full of the kind of adventure and risk that most of us can only dream about; or read about in biographies and novels. When the war did break out, he joined the King's African Rifles, rounding up Germans living in Tanganyika. After that he joined the Royal Air Force, took advanced flying training in Iraq at RAF Habbaniya, 50 miles west of Baghdad, where he was posted to No. 80 Squadron RAF. There he learned to fly the last biplane fighter aircraft in the RAF, the obsolete (at the time) Gloster Gladiator.
The aging Gladiator was nearly Dahl's undoing. On a flight from Egypt to Libya where he was next to be posted, he got lost – the directions he was given were later found to be wildly erroneous – almost ran out of fuel, and had to effect an emergency landing in the desert in the gathering dusk. The plane's undercarriage (non-retractable) hit a boulder and he crashed. His skull was fractured, his nose smashed, and he was temporarily blinded.
Dahl fared better in his next assignment – after he had recovered from his injuries – but he was again very much in harm's way. In 1941, the Germans invaded Greece. In April of that year, Dahl was involved in what became known as the Battle of Athens. This time, though, he was flying a Hawker Hurricane:
The Hurricane was an advanced fighter, and was responsible for more German planes destroyed in the Battle of Britain than the more famous Spitfire. A fact not well enough known.
For me, one of the wonders of Dahl's RAF career was that he was somehow able to "accordion" his six-foot-six-inch frame into a Hurricane. As anyone who has seen a Hurricane will attest – and I have, and I do – it is not a very large plane.
Dahl finished up the War in Washington, D.C., as an Assistant Air Attache, where he was transferred in 1942. By then, he had been credited with at least 5 German planes shot down; and the total was probably higher than that. That qualified him as an "Ace".
In August of 1942, he published his first story in The Saturday Evening Post; "Shot Down Over Libya", more or less based based on the crash of his Gloster Gladiator. At the time, he was being encouraged by the English writer, C.S. Forester, also in Washington then. (Forester was the author of the Horatio Hornblower novels; also The African Queen, later made into a film by John Huston, starring Humphrey Bogart and Katherine Hepburn.) Forester worked for the British Information Service, writing propaganda, mainly for American consumption. (And we thought only the other side, the "bad guys" wrote propaganda? Hardly!) And I have to add that Forester introduced Dahl to espionage, and to the activities of the Canadian spymaster William Stephenson, who later became famous as the British Agent, Intrepid. At the same time, Dahl also met Ian Fleming – creator of the inimitable James Bond series. (And was Dahl, a neophyte writer at the time, both "shaken and stirred" by his acquaintance with Fleming? One simply has to wonder about that.)
Anyway, time to return to the "Perfect Little Murder" in the title of today's post. But first a warning – there be "spoilers" to follow. The story is called Lamb To The Slaughter. If you haven't read the story, or seen it on the old Alfred Hitchcock Presents series, and you would like to read it before I spoil it for you, go here:
http://www.classicshorts.com/stories/lamb.html
And then come back to the summary if you like.
The story is deliciously simple. And wicked.
Dahl wrote the story in 1953, and submitted to The New Yorker. It was rejected, along with four other stories that Dahl had submitted. (There is an obvious lesson here.) It was eventually published in Harper's Magazine in September of the same year.
The Hitchcock version was screened (on TV) in April 1958. It was one of only 17 AHP episodes directed by Hitchcock himself. It starred Barbara Bel Geddes as Mary Maloney, the story's protagonist.
Bel Geddes, I will add, also starred in the 1958 Hitchcock classic film, Vertigo, with James Stewart. She is probably best known for her long-running stint – 1978-1990 – as "Miss" Ellie Ewing in the prime-time soap opera, Dallas.
But I digress. Back to the story
Mary Maloney, a devoted housewife, is waiting for her husband Patrick to return home from his job. Patrick is a  police detective. When Patrick enters the house, Mary notices that he is strangely aloof. She thinks that he is tired from work. But Patrick finally reveals to her what is making him act strangely. It is not explicitly stated in the narrative, but it is clear that he is leaving her.
Seemingly in shock from her husband's revelation, Mary fetches a large leg of lamb from the deep-freezer in the cellar, to cook for their dinner. Patrick angrily tells Mary not to make him any dinner. He tells her he is going out.
At that point, Mary Maloney simply walked up behind him and without any pause she swung the big frozen leg of lamb high in the air and brought it down as hard as she could on the back of his head.
She might just as well have hit him with a steel club.
She stepped back a pace, waiting, and the funny thing was that he remained standing there for at least four or five seconds, gently swaying.  Then he crashed to the carpet.
Mary realizes that Patrick is dead, and now she has to create a story to tell the detectives who will investigate his death.
She prepares the leg of lamb that she has killed her husband with and places it in the oven to cook. After practicing a routine, she visits her grocer, Sam, to establish an alibi.It wasn't six o'clock yet and the lights were still on in the grocery shop.
"Hullo Sam," she said brightly, smiling at the man behind the counter.
"Why, good evening, Mrs. Maloney.  How're you?"
"I want some potatoes please, Sam.  Yes, and I think a can of peas."
The man turned and reached up behind him on the shelf for the peas.
"Patrick's decided he's tired and doesn't want to eat out tonight," she told him.  "We usually go out Thursdays, you know, and now he's caught me without any vegetables in the house."
"Then how about meat, Mrs. Maloney?"
"No, I've got meat, thanks.  I got a nice leg of lamb from the freezer."
When Mary returns to the house, she enters the room with her dead husband lying on the floor and calls the police. When the police (who are all friends of her husband) arrive, they ask Mary questions and look at the scene. Considering Mary above suspicion, the police conclude that Patrick was killed with a large blunt object, likely made of metal.
After they conduct a fruitless search around the house and surrounding area, Mary is reminded that the leg of lamb is cooking in the oven. She offers it to the policemen. They hesitate at first, but……….they were clearly hungry, and in the end they were persuaded to go into the kitchen and help themselves.  The woman stayed where she was, listening to them speaking among themselves, their voices thick and sloppy because their mouths were full of meat.
"Have some more, Charlie?"
"No.  Better not finish it."
"She wants us to finish it. She said so.  Be doing her a favor."
"Okay then.  Give me some more."
"That's a hell of a big club the murderer must've used to hit poor Patrick," one of them was saying.  "The doc says his skull was smashed all to pieces just like from a sledgehammer."
"That's why it ought to be easy to find."
"Whoever done it, they're not going to be carrying a thing like that around with them longer than they need."
One of them belched.
"Personally, I think it's right here on the premises."
"Probably right under our very noses.  What you think, Jack?"
And in the other room, Mary Maloney began to giggle.
And that's today's post.
==================================================================
June 11, 2011
On May 15, the day of the "official launch" of Death Of A Lesser Man in Ottawa, I was interviewed by Mack Furlong of CBC-St. John's. Subsequent to that interview, CBC asked me to provide an "author's reading list", a compilation of some of the books and authors that I have enjoyed over the years. What follows below is taken from the CBC-St. John's website.
In addition to his interview with the CBC, Tom Curran was kind enough to provide us with a list of some of his favourite writers and books.

The Lew Archer Series
by Ross Macdonald
I am not a prolific reader of mysteries, but I did "cut my homicidal teeth" – as it were – on the Lew Archer series of mystery novels, penned by the late Ross Macdonald (real name, Kenneth Millar). The Archer character is complex, thoughtful, and passionate; violent and tough when he has to be, but able to understand the complexity of human actions and frailties. To a degree, I have modeled Eric Stride on Archer, and my three books adopt Macdonald's "past is prologue" approach to crime fiction.

Atonement and Saturday
by Ian McEwan
Probably my favourite author currently writing is Ian McEwan; Saturday and Atonement are two of my favourite books. McEwan's writing is the kind that has me re-reading paragraphs and pages and muttering to myself things like – "I wish I could write like that!" But the fact is almost no one but McEwan can. Personal opinion, of course.
Pigeon Feathers
by John Updike
I read a lot of short stories, and I sometimes tell people that when I grow up I want to become John Updike. His short stories are mostly marvellous. I bought his collection Pigeon Feathers back in the mid-sixties and I still read the stories, over and over. I am not a great fan of his novels, though, don't know why; just am not.

After Rain
by William Trevor
But if I don't grow up to be John Updike – and I know that that's not my choice to make – I will be almost as happy to become the great Irish writer, William Trevor. His short-story collection After Rain is one of my all-time favourites, and like Pigeon Feathers, I have read all the stories over and over.

The One From The Other
by Philip Kerr
Other writers I like and admire. Alan Furst, who sets many of his espionage thrillers in France and elsewhere in WW2 Europe. A great sense of place and time. Currently I am reading a Bernie Gunther novel by Philip Kerr, The One From The Other. Like Furst, Kerr sets some of his novels in and around WW2. His writing also has a good sense of time and place. So, you can see where my mind is a lot of the time.
Barney's Version
by Mordecai Richler
It would be wrong of me not to mention some Canadian writers. Last summer I read Barney's Version by Mordecai Richler. It had been years since I read a Richler novel, and I really enjoyed it. I even went to see the film, which I also enjoyed, but have to say that the book was a lot better.

Trial Of Passion
by William Deverell
Bill Deverell's Arthur Beauchamp novels are among my favourites; and of the lot, Trial Of Passion is, for me, the best – a terrific book. Possibly his best book, at least of the ones I have read.
Monday, May 30, 2011
Last week I was in Halifax for 2 days, and attended a luncheon with some 40+ discerning members of the Canadian Library Association who were having their annual convention in the great city by the sea. (The definition of "discerning" being the fact that they all liked reading mystery novels, and enjoyed our presentations.) It was a great experience being on-stage, as it were, with four "fellow" – actually female – mystery writers. The indefatigable Maty Jane Maffini almost instantly produced an item on the affair on the Mystery Maven Canada blog, and I have taken the liberty of reproducing it below.
Enjoy!
Monday, May 30, 2011
While listening to four Canadian authors read at the Murder on the Menu luncheon at the CLA conference this weekend, I was struck by the variety of voices. Not only the authors' personal voices, but the other voices they brought to the table: their characters, their communities, their occupations and their values.
Anne Emery and Pamela Callow are lawyers working in Halifax (and obviously women). You'd think they might think alike, sound alike, reveal setting the same way and maybe even plot alike. But you'd be wrong.
Anne Emery writes from the point of view of Monty Collins, lawyer and bluesman.
Through Monty we travel through Halifax society, high and low and we get the Cape Breton voice through his wife, Moira, and the Irish influence of Father Brendan Burke. We also get music and musical voices. The fifth book in the series, Children in the Morning, has just won a silver medal in the 2011 Independent Publisher Book Awards and has won the 2011 Dartmouth Book Award for Fiction.
Pamela Callow brings a very different voice in the Kate Lange legal thrillers Damaged and Indefensible. We get to know a woman in her thirties, practicing law in a blue chip law firm, with all the pressures, conflicts and betrayals that brings. In her own voice, we learn the guilt Kate carries from her sister's death. We also hear her footsteps as she makes her regular run through Halifax streets and parks, but not away from trouble. As well as giving us a strong woman in a thriller, Pamela Callow also gives voice to her own concerns about troubling bio-medical issues and other contemporary complexities that challenge our legal system and our lives.
Thomas Curran brings the voice of Newfoundland and not just The Rock, but The Rock
in 1947. Through his writing you hear the speech patterns, discover the social conventions and a sense of life at the time. Because he also brings his background as a meticulous researcher (and PhD) he gets that right too. You feel that you are there, riding or walking along with Inspector Eric Stride. We get to know Stride's married lover and we hear the voices of other police officers at many levels, as well as petty criminals and the good citizens of St. John's. You feel that you are there and it's a fascinating and unique place to be.
Barbara Fradkin brings her training and experience as a psychologist to her writing.
Yes. Another PhD. In her award winning books she gives voice to many disenfranchised people: street people, an elderly recluse, an autistic child to name a few, as well as the lively perspective of Hannah, the challenging daughter of Inspector Michael Green. Then there's Green himself and his long-suffering wife, Sharon. Green's Jewish heritage and relatives add other voices to the mix, and lots of interesting food, history and tragedy. Barbara's latest Green book is Beautiful Lie the Dead. Barbara is offering us a new voice in her Rapid Reads series: In The Fall Guy, Cedric O'Toole, handyman, sounds very real to me (and I wish I could find him!)
I have a better sense of my country and its people because I have heard these voices. I have new insights and new friends. These are authors well worth reading and they are just four of our many Canadian crime writers. So, what wonderful Canadian voices have you discovered? Want to share?
An On-line Interview with Corinne Leegstra
May 9th, 2011
1.What is your favourite line from Death of a Lesser Man?
I have any number of "favourite" lines. They came and they go, and match the situation and context of the book's section. One favourite, and really important, line comes when Inspector Stride is speaking with the coroner, Dr. Butcher, at the scene of the crime that opens the book, the killing of Harrison Rose; and it's the line that frames the investigation that follows, and sets the storyline. Butcher has examined the body, and has found three bullet wounds, two in the chest and one in the head. (Stride was the first officer on the scene  because the murder took place very near his house.) The line:
"The thing is, Thomas, I heard only two shots."
Two shots, two shell cases at the scene, but three bullet wounds. The narrative grows out of those competing observations.
2. Are there any little known facts about Newfoundland that you'd like to share with us?
My books have focused on Newfoundland's history and its "place in the world" if I can put it that way. It's a fascinating place, and I am not reluctant to state that I learned a lot more about my home territory – I was born in St. John's in 1939, and grew up there – during the writing of my books than I had ever known before. The time setting of the three books, 1947, almost dictates that the Second World War will play a major role, because of all that went on in Nfld. during and after the war. The American and Canadian presence in Nfld. during the war was huge. For the record, the Americans were more popular than the Canadians, and there was a movement after the war for Nfld. to join the USA, but of course it was Canada that won out there, in large part because the American Government took a hands-off policy when the Confederation debate started up in earnest in 1947-48. There were American troops stationed in Nfld. in January 1941, almost a year before the Japanese attacked Pearl Harbor, and American military bases were under construction all over the island even before then. The first wartime meeting between President Roosevelt and Prime Minister Churchill took place in Nfld., on warships in Placentia Bay in August of 1941, when the Atlantic Charter was drafted and signed. The busiest airport in the world during WW2 was in Gander, Nfld., which was the transfer point for American and Canadian-built bombers crossing the Atlantic to Britain. And so on. All of that activity, of course, transformed Nfld. from a rather sleepy, and some would say almost feudal, resource-based economy to a more modern economy. The social changes were enormous.
3. Death of a Lesser Man and your previous novels are all set in post-war Newfoundland. How true to Newfoundland's history are the novels based?
Historical research is a mainstay of my books. I have worked very hard to "get it right", and with some very minor exceptions I have gotten the history right. And it's not just the larger historical facts that I got right, I also got the social and physical context right. I grew up there, and my memories from that period – one of the advantages of being "old" – are very strong. Reviewers in Nfld., and readers too, have been impressed at how well I have described the time period.
4. If you could meet any character from any book written, which character and book would it be and why?
Well, that is a toughie. In mystery fiction – of which I do not read a huge amount, but do read some – I would like to meet Ross Macdonald's protagonist, Lew Archer. He is complex, thoughtful, and passionate. Violent and hard when he has to be, but able to understand the complexity of human actions and frailties. ( Very recently, I re-watched the only half-decent film portrayal of Lew Archer, Paul Newman's "Harper", and was disappointed to see that Newman's take on the character was much more Newman than Archer. A vastly better approximation of the Archer character is in the Gene Hackman film "Night Moves"; Hackman's Harry Moseby is much closer to my idea of what Archer is like, even though the film is not based on one of Macdonald's books. And "Night Moves" is a much better film than "Harper".) To a degree I have modeled Eric Stride on Archer, and my three books adopt Macdonald's "past is prologue" approach to crime fiction. Among writers of "serious" fiction, I would like to meet almost any of Ian McEwan's characters. He is probably my favourite novelist. "Saturday" is one of my favourite books; "Atonement" is another. In the short-story category, John Updike is among my favourites. It's impossible to settle on just one character from the hundreds he created in that genre, but I will mention one: David Kern from the story "Pigeon Feathers", a story I have read a dozen times, but always find new and exciting each time I read it. It's a kind of coming-of-age story, but that simple descriptive does not do it justice. A very complex portrayal of a complex individual. Keeping in mind that all individuals are amazingly complex.
5. Is there anything else you would like to share?
On mystery writing generally – and I am aware that I am not prolific, with only three novels in just under ten years – I would like to say that I do not have a "formula" – which my friend and fellow-writer Barbara Fradkin calls the "F-word". I think my books are formulaic only in the sense that they are police procedurals, and that they comprise a series – albeit, thus far, a short series. There are essentially two schools of, or approaches to, mystery fiction, as I understand it. There is the approach that has the book totally mapped out before the real writing commences. I heard Anne Perry say in an interview that she takes that approach. The other is to start with an event or a character and then see where the story goes after that. That is the approach that I take. A few years ago, I attended a festival which had as a guest of honour, Eric Wright, one of the masters of Canadian crime fiction. He was asked how he created his characters and his stories. He replied that he sat in his study and looked at the hedge at the bottom of his garden and waited and watched as the characters emerged from the foliage to tell him their story. Or words to that effect. That is what I like to do. Except that I don't have a hedge at the bottom of my garden. Maybe, given the problems I am having getting my fourth Inspector Stride moving ahead, I should think about having a hedge installed.
Launch Time – For Real
April 13, 2011
Let the bells ring out and the banners fly! The launch date has been set. Death Of A Lesser Man, the third book in the Inspector Stride series will be released on May 15. The Ottawa Launch will take place on May 18th at Collected Works Bookstore, 1242 Wellington Street West, 7 – 9 pm. The entire world is invited. Please come – and bring your 99 closest friends with you. There will be books for sale, of course. I will post more details on the launch soon, when the program for the evening is set.
Cheers, all!!
…
LAUNCH TIME – ALMOST
April 8, 2011
Who was it said that producing a book is a process that makes childbirth look easy? Not a woman, certainly, and most certainly not an actual mother. But writing a book, from the first empty page – or blank computer screen – to the finished manuscript, and then having it shepherded through to a finished product between covers is a sometimes wrenching process; and when not actually wrenching, really difficult and wearying. Well, for this writer, anyway. In just over ten years I have produced three novels; and a half-dozen unfinished works – many hundreds of pages, hard copy and electronic copy both. Stillbirths, I suppose one could call them, if one were being graphically crude – or just criminally evocative. Which, come to think on it, is what I do.
I have friends and fellow writers (most of them female, though) who produce a novel a year; and one notable friend, the uniquely talented Mary Jane Maffini, who produces more than one book per annum, and juggles three different series.
How does she do it? I have no idea. I think the output would be even greater if she could type more quickly, but thus far that's only a rumour.
Anyway, my third book is about to appear. Yesterday, April 7, I picked up five copies of the Advance Reading Copy of Death Of A Lesser Man from my publicist, Taryn Manias. She had been busy all of that day preparing press kits for mailing out to some 60 reviewers in Canada and the US. We will hope for a good outcome. The release date is just over a month from now, May 15th. The Ottawa launch will happen a few days later. A launch in St. John's – scene of all three Inspector Stride novels – is a possibility for later in the summer.
On the last weekend in May, as part of the book-promotion process – I will be in Halifax, Nova Scotia, for a luncheon event with the Canadian Library Association as part of their annual meeting. I will be travelling to and from Ottawa with Barbara Fradkin – she of the very successful Inspector Green series – and the aforementioned amazing Mary Jane.
That's MJ on the right, and Barbara on the left.
It seems that I will be the lone male writer on the menu for the luncheon, surrounded by homicidal females. And not for the first time in my writing career. It's been my – and others' – observation that the crime-writing milieu is almost dominated by the ladies. There is even an organization known as "Sisters In Crime", and a local Ottawa branch called "The Ladies' Killing Circle". (Imagine, if you will, the hubbub that might erupt if there were organizations known as "The Gentlemen's Killing Circle", or "Brothers In Crime".) There is probably some very good explanation for all this. Perhaps MJ and Barbara will enlighten me on the flight to Halifax.
The week after my return from Halifax, I will be winging my way to Victoria, British Columbia, for the annual gore-fest of the Crime Writers of Canada, Bloody Words 2011, June 3-5. The last time I attended that gathering it was held in Ottawa in 2009. On that occasion I chaired a panel on historical mysteries. At the Vancouver conference, I will sit on a panel on "Cold Cases" (perhaps because I come from an island in the North Atlantic where most cases are chilly?); I will also introduce and moderate a session with Barbara Fradkin and Garry Ryan, "Inspired To Murder". That should be an interesting session, and this time – for once – the males have the female outnumbered, two to one – although Barbara would probably see that only as evening the odds.
…
HOLIDAYING  WITH WORDS AND IMAGES
October 2010
ADAM: Don't you know I'm having a tough time keeping my hands off you?
 (REGGIE reacts in surprise.)
ADAM: Oh, you should see your face.
REGGIE: What about it?
ADAM: It's lovely.
(REGGIE pushes her plate away.)
ADAM: What's the matter?
REGGIE: I'm not hungry any more — isn't it glorious?

The scene is from the 1963 mystery/thriller, Charade. Adam is Cary Grant, and Reggie is Audrey Hepburn. They are on a Bateau Mouche, an excursion boat that is also a floating restaurant, gliding down the Seine at night. It's a great romantic moment in a great film.
Not odd that a mystery writer on holiday in France, and whose first full day in Paris was spent on a version of a Bateau Mouche, a Batobus motoring down the Seine from the Jardin des Plantes in the Latin Quarter, to La Tour Eiffel, would link some of the passing scenery to films seen, or books read.
Our apartment was in the Latin Quarter, an easy walk to the Jardin des Plantes, and only a few streets away from la rue Mouffetard, with its restaurants and bistros, packed on any given night with tourists, and students from the Sorbonne. It's also the street where Hemingway hung out in the 1920s, sipping drinks, waiting for cheques from the Toronto Star, and writing always.
(TRC and Suzanne Beaulieu posing prettily in Paris)
The elevator that took us to our third floor apartment also evoked thoughts of Charade. It was a tiny cubicle, just large enough for two people who know each other very well. The alternative route was a narrow spiral staircase, steep going up, tricky to navigate going down. And each time the elevator door opened, I had a vision of another scene from Charade, where one of the lesser bad guys has his throat cut by the senior baddie, played by Walter Matthau.
I packed books for the trip, of course, including two novels by Ross Macdonald, who has long been one of my favourite writers in the mystery genre.
While my opinions of Macdonald's books have changed since I first read them in the 1970s – the linkages between the many characters in his stories seem too complicated now, even a bit contrived – I am still dazzled by the quality of his writing and his insights into human nature.
Could any mystery writer who visits Paris not visit the Catacombs? This writer did. The tour covers some 2 km, and can take more than an hour. They are located in old mines that run for hundreds of kilometres under the city. They are in fact an ossuary, and contain the bones of some 6 million people.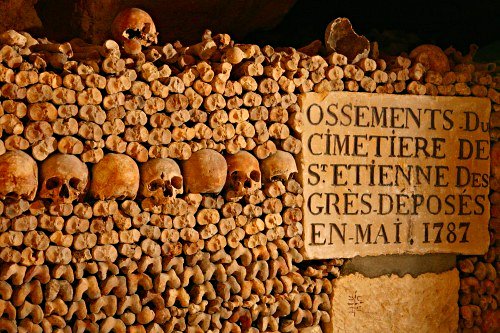 Not to everyone's taste, perhaps, but well worth a visit.
Once back in the sunshine, we walked to number 17 rue Campagne-Première in Montparnasse, where Suzanne's cousin, the artist Paul Vanier Beaulieu, lived from 1938 until July 1940, when he was interned by the Nazis, finally being released in August 1944.
And there we found another movie connection. Enjoying a superb lunch at a café-cum-teashop just down the street from number 17, we discovered we were at the location for the closing scene in the 1960 Godard film, Breathless – À bout de souffle – a crime flick starring Jean-Paul Belmondo. Not far from where we sat, the Belmondo character, Michel, was shot by the police, and there he drew his final filmic breath.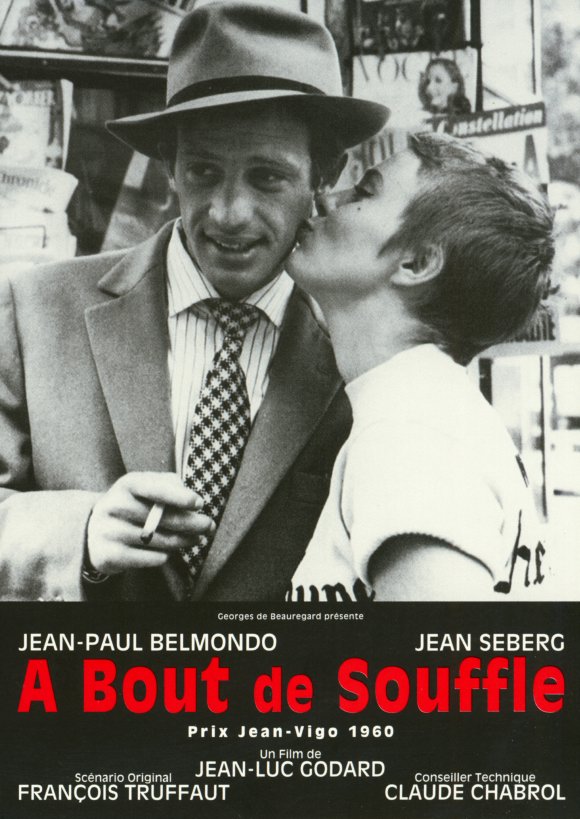 After Paris came Aix-en-Provence. Defying the will of the unions, who chose the day of our departure to hold a strike, we caught an early train and were whisked south through the gorgeous French countryside at speeds of up to 250 km/hour. Aix is quite another world; with its brightly coloured stucco buildings and narrow alleyways, one can easily imagine oneself being in Morocco.
Our last day in Provence, we booked a tour to Arles and Les Baux. As we walked through the 90 A.D. Roman Amphitheatre at Arles, I had the feeling I'd seen it before.
I had. There's a long sequence in the 1998 Robert De Niro thriller Ronin, shot inside the Amphitheatre: violence, gunfire, bodies all over the landscape. Appropriate to the location, I suppose. The ancient Romans, after all, gloried in slaughter.
And now I am back in Ottawa, struggling to get out of holiday mode, and wanting to get some work done. That will happen soon enough. The line edit of my third Inspector Stride novel, Death of a Lesser Man, will soon arrive, and then I will be hard at it.
…
On Friday, June 26, 2009, I was interviewed by friend and fellow writer David Cole as part of Janet Rudolph's Mystery Fanfare website, in the More Cool Canadian Crime segment.
Author and Interviewer David Cole
Here's the link: http://mysteryreadersinc.blogspot.com/2009/06/more-cool-canadian-crime-thomas-rendell.html
The complete interview follows below.
More Cool Canadian Crime: Thomas Rendell Curran
Today mystery author
David Cole
returns with another interview in his Cool Canadian Crime series. Previously, David has interviewed
Louise Penny
,
Barbara Fradkin
, and
Mary Jane Maffini
. These interviews were organized with the assistance of Cheryl Freedman, executive director of
Crime Writers of Canada (CWC)
, and David Cole, a US author and CWC member. The group of 13 authors were chosen by David to represent a variety of mystery genres, styles, and historical periods. Some of the authors have won or been shortlisted for the Arthur Ellis award for best mystery novel.
Thomas Rendell Curran was born in St. John's, Newfoundland, in 1939, and it is no coincidence that his mystery novels are set in the post-war, pre-Confederation Newfoundland of the late 1940's. His protagonist is Inspector Eric Stride of the Newfoundland Constabulary. After receiving a Ph.D, he worked in various capacities for the Canadian Department of Agriculture, and for one memorable year as a lecturer at Carleton University. Thomas Rendell Curran lives in Ottawa, but his roots remain in Newfoundland. His first novel, Undertow, was shortlisted by the Crime Writers of Canada for the Arthur Ellis Award for Best First Novel.
DC: You write historical mysteries, and they're set in Newfoundland. But, first, there's your name. Any relation to Ruth Rendell?
TRC: Probably not. Ruth Rendell's birth name is 'Grasemann', and I think her family is originally from Scandinavia. My middle name, Rendell, comes from my mother's family, who originally came to Newfoundland from the Devon-Somerset area of England, back in the 1700s.
My surname, at birth, was Curren, but I changed it ten years ago to Curran, to recapture the original spelling. The name is Irish, and the spelling was changed by my paternal grandmother, back in the 1930s, because she was Methodist, and a religious bigot, and didn't want to be thought of as Roman Catholic. ( I am not making this up!) I will add that the religious strife in Newfoundland is not all that dissimilar from that in Northern Ireland.
I settled on 1947 as the date for my book because Newfoundland was not yet a province of Canada. That happened in 1949, a day that for many Newfoundlanders of my generation will always live in infamy. The three books that I have written (two published, and the third looking for a home) are set in the period two years after the end of WWII, and two years prior to Confederation with Canada. At the time, there was a strong American presence in Newfoundland, as a consequence of WWII, as well as a strong British tradition.
DC: As far as I know, Newfoundland has little or no history of crime fiction. You lived there in your early years, and I assume that's why you decided to set your books there. Does the fact that Newfoundland is a "place apart" inform your writing to any extent?
TRC: Newfoundland doesn't have any history of crime fiction that I know of. When my first book, came out, a local reviewer thought a murder mystery set in 1947 St. John's wouldn't work, because it was a small town and in real life everyone would know at once 'whodunit'. He admitted he was wrong about that, and once he got started on the book, he read it through in one sitting.
I lived in St. John's until I was twenty-two, when I left for Toronto and 
graduate studies. Newfoundland's being "a place apart" does inform my writing. What I tried to capture in my books is the uniqueness of Newfoundland, the place, and the people. Mind you, I am what anyone from outside St. John's – the capital – would call a "townie". The inference being that the "St. John's crowd" has traditionally made its living from the blood, sweat and tears of the people who live and work outside the city, and that all that is good about the island takes place in the hundreds of small towns and villages strung along the coastline – the "outports". There is truth in that. History records that a small number of extremely wealthy St. John's merchants controlled the island's economy and its politics.
Before WWII, most Newfoundlanders did not live in a cash 
economy, and I use this in my first two books. My protagonist, Eric Stride, is very well-to-do, even though he was born in an outport on the south coast, a place called Bay d'Espoir. In French that means "Bay of Hope", but it's pronounced "Bay Despair". I love the contradiction. Stride was a rum-runner in his youth and made a lot of money during Prohibition, running booze from the French Islands of St. Pierre and Miquelon, off Newfoundland's south coast, into the Eastern Seaboard of the United States. He lives in a large Victorian-era house in an area in St. John's known as "Millionaires' Row". So he straddles two worlds.
DC: When I read your first book, Undertow, and having no idea of the size 
of the city St. John's, I somehow got stuck with the idea that it was a 
"village" mystery. But you captured the city so well that I felt at home 
in whatever size "village" it was.
TRC: St. John's would have had a population of around 40,000 in 1947. You're right, it was a lot more than a village, although like a lot of cities, it was a collection of villages. I centred my first book on my old neighbourhood, and made much use of the location, the houses and characters that I was familiar with. In a real sense, the book is a memoir of growing up in St. John's in the 1940s.
DC: Why the late 1940s? And why a historical period, rather than something contemporary?
TRC: I chose 1947 because the strongest memories I have of 
Newfoundland are from that period, the sights and sounds, even the smells of the place. It was such an interesting period. The echoes of the war were still there, the city was still full of American and other troops. In fact, there was a stronger bond between Newfoundland and the United States than there was between Newfoundland and Canada, however strong the mutual British connection. New England, for Newfoundlanders, was "the Boston States", and I still have relatives, Rendells, living in the Boston area.
I was able to draw on the wartime connection, WWII that is. I am a WWII buff, and setting my books in that period, 1947, allowed me to use that part of history to good effect.
The third book is also set in 1947, but much of the narrative goes back to WWI, which was a cataclysmic event for Newfoundland and for Newfoundlanders. That war cost Newfoundland so much in terms of manpower, and treasure, that it crippled the island's economy, and led to the loss of independent government in the early 1930s, when the Great Depression hit, and the island was bankrupt. I'll add that in Canada, July 1 is Canada Day; but in Newfoundland, the date signifies a national tragedy, the First Day of the 1916 Somme offensive in France. Twenty thousand soldiers of the British Army were killed in a few hours. The Newfoundland Regiment was there, and it took a 90% casualty rate. Including my mother's brother, who was twenty at the time he died.
Another reason for the time frame is that Stride has to rely on the personal approach, people rather than technology, to solve the crimes. As much as I enjoy modern forensic technology – who isn't captivated by all the CSI stuff, after all? – it's the characters that drive my books, not the widgets.
DC: Where did your protagonist, Eric Stride, come from? Is he based on a 
real character, or entirely a product of your imagination? Do you identify with Stride?
TRC: I do identify with Stride. He isn't based on anyone I have ever known, other than myself. A figment, if you will, of my imagination.
I sometimes think Stride might be part-aboriginal. There was, in fact, a "John Stride" who lived in the Bay d'Espoir area a century or more ago, who was part Micmac Indian. (The term used now is Mi'kmaq.) I even thought at one point that Stride's father would be part Beothuk, the native tribe that inhabited Newfoundland when the Europeans first arrived. The Beothuk became extinct, through a combination of warfare, murder, and – most importantly – through loss of territory, which resulted in starvation and disease. The last known Beothuk died in 1829.
DC: Have you thought of moving away from the Stride series, to a stand-alone novel? I know you've visited Cuba with a story 
in mind.
TRC: I did start a novel dealing with Stride's early rum-running days. That narrative is set partly in Cuba. A few years ago, I read I.F. Stone's 1946 book, "Underground To Palestine". One of the 
characters he wrote about was a German Jew named Rudy who had survived the death camps and who was running the British blockade against Jewish immigration into Palestine. Rudy's early history, though, saw him in Cuba after WWI, where among other activities, he was a rum-runner. So you see the possible connection with Stride.
In my draft, Rudy becomes a character named Kurt Mosel, a veteran of the German Navy from WWI. I was in Havana in 2006, and toured the city, taking hundreds of photos. The thing about Havana is that, with the American embargo, the old city hasn't changed a lot. Those photos are all there on my laptop, carefully labelled, ready for reference.
As to a stand-alone book, one that doesn't involve Stride, I haven't gone in 
that direction, not yet.
DC: A typical reader's question: Who do you write for? Yourself, or do 
you imagine a readership for your books, and then attempt to satisfy 
that readership?
TRC: When I started, I was writing entirely for myself. I never really thought about publication, but eventually I did get published, and Undertow was short-listed for an Arthur Ellis Award for Best First Novel. After that, I started, more consciously, to write for readers, or what I imagined readers would want to read. And frankly that has become a bit of a problem. I think a writer – this writer, anyway – loses something when he/she does that. It can be a hindrance.
DC: Some writers plot out their novels before starting to write, while 
other writers just, well, "write" and "see what happens", allowing the 
characters and the locations to define the narrative. Which group do you 
belong to, and why?
TRC: With my two published books, I simply wrote, and waited to see what would happen. In "Undertow" I started with a woman beaten and drowned in her bath on a rainy Saturday night, and took it from there. With "Rossiter" it was much the same. I started with three teenagers, late one night, rolling a discarded tire down a steep hill in St. John's, where it narrowly misses a policeman walking his beat, and collides with a parked car. Two of the three escape down a laneway, and when the cop follows in pursuit, he finds an old man dead on the steps of the laneway, battered and bloody. I didn't know who the old man was at the beginning, or why he was there, but 350 pages later I did.
With my third book, I more actively plotted the narrative, and ran into problems. But, with the help of a very good editor named Verna Relkoff, who works with my agent, Morty Mint, I got the story on track, largely because I went back to character and location.
DC: Do you have any plans to age your protagonist; in 1947, Stride is 38 
years old. Can you see him aging, say to his fifties or even his sixties? Even to your present age, which is 69?
TRC: I think aging someone to my present age – 69 would be a cruel thing to do. I don't much like being 69. I'd rather be forty. But, with a nod to Bernard Shaw, I will say that being 69 beats hell out of the alternative.

 Seriously, I have thought of moving the Stride narrative along to later 
years, to post-Confederation Newfoundland. The Government that took power in 1949, and stayed in power until 1971, was almost comically corrupt and inept. Joe Smallwood, the Premier, was the perfect man to lead Newfoundland into Confederation, but probably the worst of a mostly bad lot to lead a government. By turns, he became a despot, a bumbling dictator, eventually an embarrassment. Along the way he squandered countless millions of Canadian taxpayer dollars on hare-brained industrial schemes, at the same time neglecting the principal resource that Newfoundland had, the cod fishery, because he thought that Newfoundlanders really didn't want to fish for a living. Never mind that fishing was their life and their heritage. The "best small boatmen in the world", as Churchill called them.
So, the potential is there for a mystery novel or 
two based on the Smallwood years. Perhaps someday…..